High Speed Stand Up Zipper Bag Making Machine
| | |
| --- | --- |
| Packaging: | wooden case |
| Brand: | Durzerd |
| Transportation: | Ocean |
| Place of Origin: | China |
| Port: | SHANGHAI PORT |
Product Description
Brief Introduction:
ZD-600model high speed multifuction bag making machine is with good advantage of electricity,air by servo motor,it is a high quality,high speed and a suitable machine for soft packing market.The machine is suitable for three side seal zipper bag,four side bag,stand up folding or inserted bottom zipper pouch,2 lane middle zipper.
This zipper pouch making machine is a new generation of composite bag packaging models. This machine is used to make standup four side sealing bags, which can be divided into kraft paper bags and plastic bags according to different materials. Suitable for premade bag filling machine and paper bag packing machine. This model can make flat bottom bags with zippers and sliders. When filled with materials, the bag has a regular shape.
Feature:
Drive Type
The whole of machine adopt servo motor(Japan Panasonic)
1.Material Traction by Servo Motor
2.Up and Down Seal by Servo Motor
Operation Fuction
1. Hot Seal: Hot seal speed
2. Temp: No touch point auto control with LCD
3. Auto Counting: Pre-set
4.products bag sending: Pre-set sending quantity
5.Punch hole device: Pre-set time,it can set continuous or distance.
6. Starting Type: It can choose to delay starting time
7. Working Type: Priting and non-printing
8.Times sending type: two to six times sending(max. length 300mm)
9.Choosing: It can choose material sending without stop,up and down movement adjust moving knife.
10.Indication Info: a.Photo-electricity losing b.rewinder alrm c.servomotor alarm d.tension alarm and auto stopping machine
11. photo-electricity divited into each set: front cutter vertical punch hole pouch,photo-electricity tracing
Electricity Device
1.total sealing adopt servo motor: 4.0KW X 1 set
2.front cutter servo motor: 1.0KW X 1 set
Push knife double cutting Servo Motor 0.4KW X 1 set
3.Feeding servo motor: 1.5KW X 4 sets
4.Rewinder Traction Inverter Motor 0.75KW X 1 set
5.Cross seal device 8KW X 4=32KW
Longitudinal: 2 sections,2+3 6.4KW X5=32KW
6.Control panel and others 3.5KW
7.Machine total power About 75KW
8.Pressure: 0.6-0.8MPA
9.Cooling water: About 15L/Min.
10.Machine Size: About 15m X2.4m
11.Machine Weight: About 8 Tons
Unwinder
Unwinder air shalf set solid,it can load dia. ≤ф800mm,width ≤ф1200mm film,rewinder adopt auto up and down device,unwinder tension has magnetic powder brake(25 Nm),adopt permanent tension auto control without any limited.(motor:0.75kw)output rewinder material into 45 angle to be vertial position,auto photo-electricity correction,whatever priting material or non-printing material which can be tracing and adjusted smooth.
Double balance tension unit
Up layer mateail can adjust each side and down layer can adjust for pictures.continue material sending,change distance material sending to double floating tension roller,adjust tension by air.the device is with the edge cutting devie.
Cross seal unit
Pouch 2 lane 3 rows up down double unit heat seal,individual cooling device,individual left and right moving adjustment,single knife adjustment,non-touch temp. auto control,hot seal effective length is two units 640mm,colling effective length is 640mm,it can change hot seal knife with photo-electricity tracing device,I t can move hot seal knife and pictures bottom.specially for stand up pouch bottom position,it has up and down protection cloth and film shelf.cross seal colling knife adjopt stopping machine auto raising knife function,also have the below device at same time,for example:
1. punch hole moving shelf for front and back adjustment,it can set punch hole device in the shelf.
2. Photo-electricity position shelf can be front and back movement,left and right adjustment is to be color mark position
3. X eliminator is for front and back not in a row, avoid pouch moving.
4. It is with conveying adjust function,adjust conveying distance according to the request
Longitudinal Unit
Adopt korea approach swith test tension floating roller signal,auto adjustment effective rotation output,air device adjust tension.It is with four unit specially hot seal length is 640mm(cooling length 510mm)longitudinal device to effective seal pressure result.
Vertical Pouch Axualliary Machine Unit
With folding type individual balance type rewinder shelf is one set,it can adjust pneumatic floating roller,through potential device and auto control roller inputing individually,keep the main rewinder material's line speed in the same step,three angle board folding pouch bottom and punching hole.
The machine adopt double cutter function,the edge length can be adjusted according to the customer's request.
All informations is our basic production device introduction,if any changes,it will be without any notice.
Suitable bag type:
Stand Up Four Side Sealing: These bags are suitable for single station Mini doypack machine and premade bag packing machine.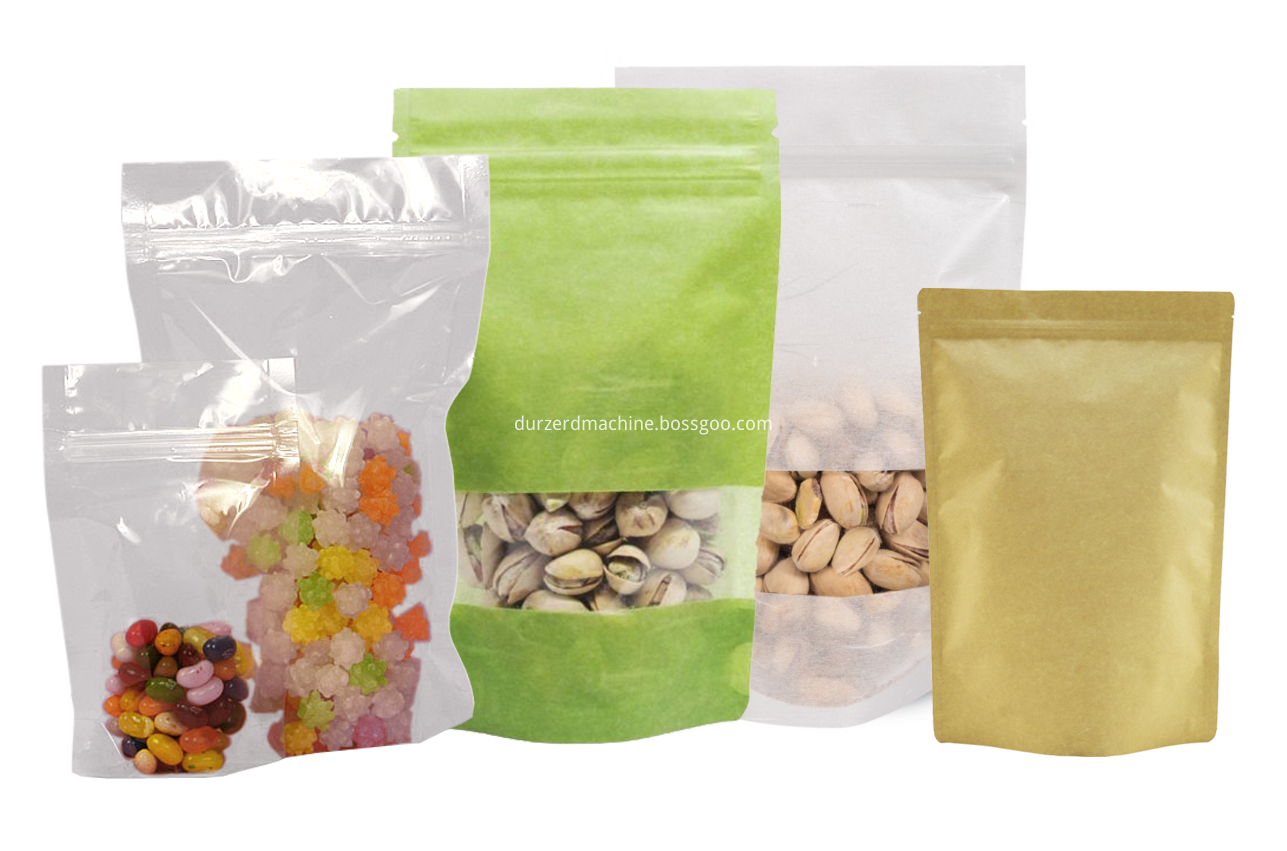 Detailed description
Detail Pictures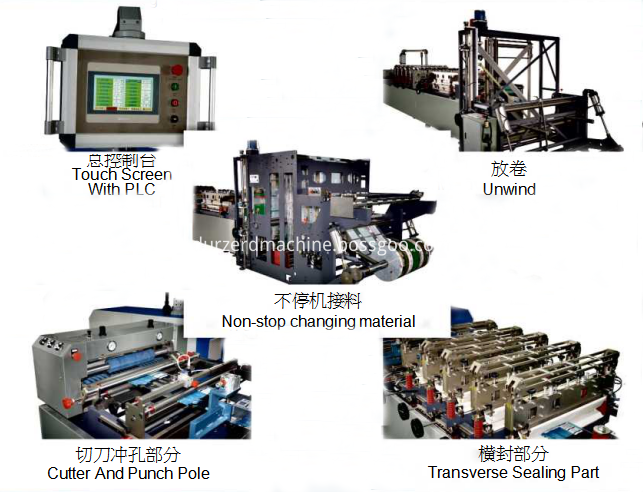 Technical Parameters
1.Material: BOPP,PET,PA,AL foil and plastic or paper laminating film.
2:Roll rewinder: Max.Width 1200mm Max.Dia: 800
3:Axualliary Material: Max.width:150mm Max.dia.:400mm
Suitable Ability
1.Bag Making Speed:Max. 160 Cuts/m around 46m(vertical bag:110 cuts/m.,around 36m)
2.Bag Making Width:Max.600mm
3.Bag Making Length:50-350mm(Super length can use times sending),super length 350mm can use manual to set length which is not pass 700mm.Remarks:(because of bag type,wide knife and material,the machine speed will go down.)
Main Parts Of Machine
No.

Brand

Name

Spec.

Place

Qty.

1

Main control

P L C

Japan Panasonic

1 set

2

Touch Screen

L C D

10.4inch

Taiwan Weiniew

1 set

1 只

3

Main servo

Servo motor

4.0 KW

Japan Panasonic

1 set

4

Punch traction

Servo motor

1.5 KW

Japan Panasonic

1 set

5

Middle traction

Servo motor

1.5 KW

Japan Panasonic

2 sets

6

Front traction

Servo motor

1.5 KW

Japan Panasonic

1 set

7

Double cutter

Servo motor

1.0KW

Japan Panasonic

1 set

8

Push cutter

Servo motor

0.4KW

Japan Panasonic

1 set

9

Winding traction

Inverter

0.75 KW

China

1 set

10

Auxiliary winding

Magnatic power

1.5 KGS

Dongguang

1 pc

11

Auxiliary winding

Inverter

0.75KW

China

1 set

12

Main gear box

Gear box

1:5

China

1 pc

13

Traction gear box

Gear box

1:5

China

1 pc

14

Rewinder

Magnetic power

2.5KGS

Dongguang

1 pc

15

Photo electricity

detector

China

2 pcs

16

set photo-electric

detector

TL46-W

Italy

3 pcs

17

Pneumatic parts

Pneumatic,electric valve

Taiwan Airtak and

China Brand

1 set
DURZERD PACKAGING MACHINERY CO., LTD.
Durzerd machinery is a company with manufacturing and self-supporting import and export rights for more than 25 years, our company has experience in exporting all machine items to all over the worlds ,We provide worldwide customers with a full line of reliable products. we are a company devotes to bag making machines,automatic packaging machines, secondary packing machine ,heavy packaging robot palletizer line and technology development in one of the high-tech enterprise. The company has a perennial engaged in the field of industrial high-tech product development of high-quality professional and technical R&D team, strong technical force, has a number of experienced software and hardware engineers, professional product development designer.
Our Products
Automatic packing machine: sachets packing machine, stick packing machine, vertical packing machine, high speed vertical packing machine, weighing machine; rotary premade bag packing machine, mini doypack machine, vacuum packing machine, autimatic 25kg ~ 50kg kraft paper bag packing machine wovenn bag packing machine, etc.
Robot palletizer line: such as woven bag palletizer line, carton box palletizer line, etc.
Secondary packing line: bag in bag secondary packing machine, bag in carton line, box in carton line, etc.
Our promise
Backed by modern manufacturing facilities, state-of-the-art technology, independent intellectual property, CE certificate, ISO 9001 certification, we offer you world-class products with advanced features, competitive price, reliable quality and on time delivery.We provide various services of quotation, quality inspection, insurance, customs declaration, shipping, handling / processing of export documentation and other services according to your needs. We have engineer teams for after sale service in 24 hours.
Contact us
Discuss your ideas with our Overseas Sources Center. Email or fax us today to see what we can provide. Welcome friends from all walks of life to come to visit, guidance and business negotiation.
Company Name: DURZERD PACKAGING MACHINERY CO., LTD.
Product/Service: Vertical Form Fill Seal Machine , Pouch Packing Machine , Sachets Packing Machine , Robot Palletizer Line , Secondary Packaging Machine , Auto Bagging Machine
Capital (Million US $): 5000,000RMB
Year Established: 1996
Contact Person: Mr. Jack
Tel: 86-15955114991